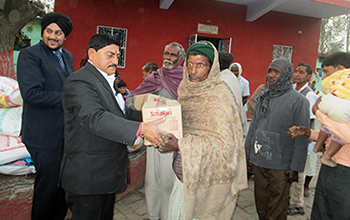 SMRO Trust engaged in lot of activities providing food and provisional's for the people below the poverty line.
Currently SMRO Trust engages itself in providing food and provisional's for leprosy affected individuals of Haridwar( Uttrakhand). Underprivilged famlilies affected purulia & Jungle - mahal, joynagar, Bankura, sundarban area of south west Bengal close to Kolkata.

SMRO Trust plans, executes and operates with a minimalistic cost and has been successful in bringing smile to all these under nourished families and eradicate their mission.

SMRO Trust has been provided them daily needed grocery like: Ata, Rice, Sugar, Salt, Mustard oil, Spices, Daal , Tea leaf and many more items to fulfil their daily requirements.