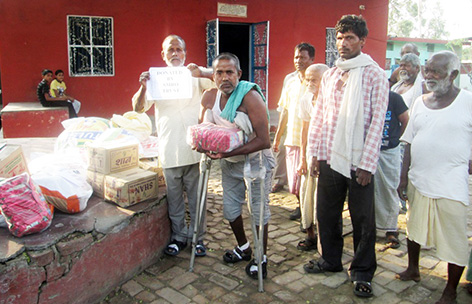 SMRO TRUST is a trust registered in New Delhi, founded in 2015 is a charitable trust working towards a very noble and social cause of providing the basic element of Life sustenance. Food to hundreds of families who are well below the poverty line, critically malnourished, and are in the under privileged sections of the society.
A trust whose supreme ambition is to feed the poor, destitute and downtrodden has been working relentlessly month after month in feeding thousands of peoplein leprosy affected villages in Haridwar and extremely poor and malnourished families in Sunderbans near Kolkata whose houses had been ravaged by the devastating Aila ( a cyclone ) which struck South Bengal a few years back. SMRO Trust provides and supplies food grain and basic life sustenance to many villages like:sindri, maan bazar 2, bara bazar, phuljhori, Ajodhya, bari, beldhi, bamni, dhadanga, dhadkidh, bastodih, nischintapur, gorsai, sankhari, bandhi, ragma, puijanga, routh-khanda, kundupuskorani, salda, pindarbonirajsole, jamdighri, bhat para, porouthkhanda, balidoba, bagajol, chatuai para, uttar ram Chandra khali – sundarban, purandhar para, burorhaat, paat- pukur, mandir bazar, shyamnagar, sankijahan and Many more villages.
"To serve is Humanity"- The body has done a comprehensive research and analysis in reaching out to the acutely remote areas of the country be it Sunderban or Haridwar or purulia& Jungle- mahal, Bankura etc. where the current of a modern day civilized society is yet to pass.
With passage of time and increase in financial support by it partons, SMRO Trust intends to spread its wings for social causes in more geographical locations and also intends to cover other social causes apart from food grain charity. Food for all those less fortunate and wanting people. SMRO Trust is there to bridge the gap between need and desperation for a balanced meal and nutrition. SMRO Trust intends to be the torch bearers for many big hearted people to follow in their pursuit for a hunger free society and further evolved.